War of the Roses
is the 9th
episode
of Season 1 of 
Fuller House
.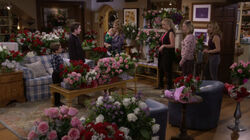 General Information
Summary
After 1,000 roses show up without a card, D.J., Kimmy, and Stephanie must figure out which one of them has a secret admirer. Cosmo begins to hoard items from the house, including the note that was delivered with the flowers.
Guest Cast
Mistakes
Becky says "After 28 years of marriage the only mystery is who's gonna unload the dishwasher." Jessie and Becky were married in February, 1991 in The Wedding: Part 2 so she has actually only been married 25 years. Strange she would get that wrong.

In Love is in the Air, Kimmy gets it right when she says she has planned the perfect weekend "... to celebrate 25 years of marriage."
Trivia
When D.J., Stephanie & Kimmy are drinking wine we can read on the word Bure on the label. The Bure Family Wines from which this bottle is from is a real winery owned in part by Candace Cameron-Bure.
Archive footage from Middle Age Crazy was used.
Music 
Gallery 
Ad blocker interference detected!
Wikia is a free-to-use site that makes money from advertising. We have a modified experience for viewers using ad blockers

Wikia is not accessible if you've made further modifications. Remove the custom ad blocker rule(s) and the page will load as expected.