Valentin Aleksandrovich
Chmerkovskiy
is the actor who portrays himself in
Fuller House
.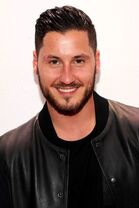 General Information
DOB
March 24, 1986 in Odessa, Ukrainian SSR, USSR (now Ukraine)
Occupation
Dancer
Actor
Choreographer
Appearances
Biographies 
Val Chmerkovskiy is a professional dancer and is known for his appearances on Dancing With The Stars. He is also a choreographer for the episode of Fuller House he appears in.
Fuller House
Encounters D.J., Stephanie and Kimmy at Euphoria with his brother Maksim Chmerkovskiy.
Links
Gallery 
Ad blocker interference detected!
Wikia is a free-to-use site that makes money from advertising. We have a modified experience for viewers using ad blockers

Wikia is not accessible if you've made further modifications. Remove the custom ad blocker rule(s) and the page will load as expected.