Ramona's Not-So-Epic Party
is the seventh
episode
of Season 1 of 
Fuller House
.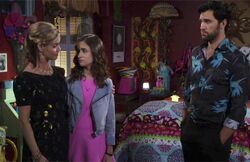 General Information
Summary
Steve tries setting up D.J.'s handsome coworker with Kimmy. Ramona's much-anticipated 13th birthday party doesn't turn out as planned for anyone.
Guest Cast
Mistakes
Only two of the four candles on the cupcakes Jackson is holding are lit, when Ramona goes to blow them out all four are lit.
Trivia
At the beginning of the episode, Ramona announces that she got an Elizabeth and James dress designed by Mary Kate & Ashley Olsen , to which Kimmy remarks "At these prices, no wonder they don't need to act anymore". The Olsen twins are fashion designers in real life, and originally took turns playing Michelle Tanner in the original Full House series. Due to their reasoning for not appearing in the show, the producers wrote in Michelle as a successful fashion designer living in New York.
Gallery 
Ad blocker interference detected!
Wikia is a free-to-use site that makes money from advertising. We have a modified experience for viewers using ad blockers

Wikia is not accessible if you've made further modifications. Remove the custom ad blocker rule(s) and the page will load as expected.