Patrick D. Bridges
is the actor who portrays a security guard in
episode 10
of
Fuller House
.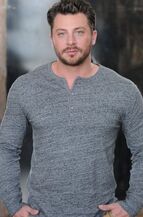 General Information
DOB
March 3, 1985, in Mountain View, California
Biography 
Patrick Bridges audition for a high school play his freshmen year. From that day forward, he was hooked and fell in love with acting. After high school, Patrick studied theater, voice and speech at Stanford University. He enjoyed several years acting on stage at various Bay Area theater companies before making the switch into film and print in 2008.
Patrick has been in several national commercials and advertising campaigns for University of Phoenix and Capitol One.
Credits
Trauma
The Nine Lives of Chloe King
Links
Gallery 
Ad blocker interference detected!
Wikia is a free-to-use site that makes money from advertising. We have a modified experience for viewers using ad blockers

Wikia is not accessible if you've made further modifications. Remove the custom ad blocker rule(s) and the page will load as expected.