Joseph Mulrey
McIntyre
is a member of
New Kids on the Block
who had a guest appearance in
episode 23
of
Fuller House
.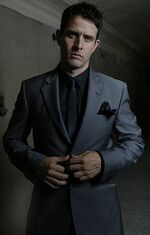 General Information
DOB
December 31, 1972 in Needham, Massachusetts, USA
Biographies 
Joseph Mulrey McIntyre is the youngest of nine children - seven girls and two boys. Joseph is a natural performer and has been working as an artist since the age of six. Joseph's huge shot at stardom came when he was chosen to be a member of the phenomenally successful band New Kids on the Block in 1985. After they broke up in June of 1994, Joseph decided to pursue acting and landed the role of Matt Hucklebee in The Fantasticks (1995) later that same year.
On Fuller House
Links 
Gallery 
Ad blocker interference detected!
Wikia is a free-to-use site that makes money from advertising. We have a modified experience for viewers using ad blockers

Wikia is not accessible if you've made further modifications. Remove the custom ad blocker rule(s) and the page will load as expected.