Hunter Andrew Pence appears in episode 11 of Fuller House.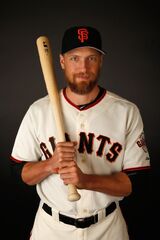 General Information
DOB
April 13, 1983 in Fort Worth, Texas
Biographies
Hunter Pence started his major league career with the Houston Astros after making his debut in 2007 & then was traded to the Philadelphia Phillies in 2011 before being traded to the San Francisco Giants in 2012. Winning 2 world series championships with the Giants in 2012 & 2014.
On Fuller House
Hunter has been having trouble getting a hit ever since he started dating Stephanie, when he comes to her house everyone is all over him, taking pictures and asking questions. He wears a fork around his neck, he uses to eat pizza with.
When Stephanie is singing 'Take Me Out to the Ball Game', the crowd boo her and call her a jinx so she breaks up with Hunter in front of everyone.
Hunter's bad streak is over and he gets a hit over right field and Max catches it outside the ground.
Links
Gallery
Ad blocker interference detected!
Wikia is a free-to-use site that makes money from advertising. We have a modified experience for viewers using ad blockers

Wikia is not accessible if you've made further modifications. Remove the custom ad blocker rule(s) and the page will load as expected.