Fuller Thanksgiving
is the 6th
episode
of Season 2 of 
Fuller House
.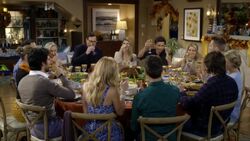 General Information
Summary
D.J. wants Thanksgiving to be perfect for her family as well as Danny, Jesse, Becky, and the Katsopolis twins who are visiting; however, she is overwhelmed when Joey, his wife, and their four kids join in on the festivities.
Becky wants to adopt a baby while Jesse is highly opposed. Danny undergoes a mid-life crisis. Joey's kids make everybody miserable.
Guest Cast
Trivia
Gallery 
Ad blocker interference detected!
Wikia is a free-to-use site that makes money from advertising. We have a modified experience for viewers using ad blockers

Wikia is not accessible if you've made further modifications. Remove the custom ad blocker rule(s) and the page will load as expected.