Craig Shoemaker
is a writer for 
Fuller House
.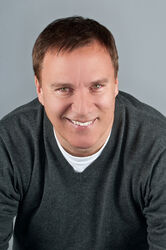 General Information
DOB
November 15, 1962 in Philadelphia, Pennsylvania, USA
Occupation
Episodes Written
Biography 
Craig Shoemaker has been on Broadway, performed for four US Presidents, and has had recurring roles on network TV, solo comedy specials, hosted/produced reality television, a WGA scribe of film and sitcoms, award winning producer and a best selling author. He has been involved in other TV series including Just the Ten of Us and Straight Eye for the Whipped Guy.
Links
Ad blocker interference detected!
Wikia is a free-to-use site that makes money from advertising. We have a modified experience for viewers using ad blockers

Wikia is not accessible if you've made further modifications. Remove the custom ad blocker rule(s) and the page will load as expected.