A list of
Catchphrases
used in
Fuller House
.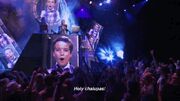 Episode
Catchphrase
Said by...
Our Very First Show, Again
Hola Tanneritos
Kimmy Gibbler
How Rude
Stephanie Tanner
Have Mercy
Jesse Katsopolis
Cut it Out
Joey Gladstone
Moving Day
Have Mercy
Stephanie
How Rude
Jesse
Funner House
Holy Chalupas
Max Fuller
You Got it, Dude
Kimmy
How Rude
Stephanie
The Not-So-Great Escape
Holy Chalupas
Max
Oh, Mylanta
D.J. Tanner-Fuller
Mad Max
Holy Chalupas
Max
The Legend of El Explosivo
Holy Chalupas
Max
Secrets, Lies, & Firetrucks
Oh, Mylanta
D.J.
War of the Roses
Oh / My / Lanta
Stephanie / Kimmy / D.J.
Holy Chalupas
Max
Have Mercy
Jesse
A Giant Leap
How Rude
Stephanie
Oh, Mylanta
D.J.
Partnerships in the Night
How Rude
D.J.
Love is in the Air
You're in Big Trouble, Mister
Kimmy
No Way, José!
D.J.
Ah! Nuts!
Stephanie
You Got it, Dude
Stephanie, Kimmy & D.J.
Coming soon
Ad blocker interference detected!
Wikia is a free-to-use site that makes money from advertising. We have a modified experience for viewers using ad blockers

Wikia is not accessible if you've made further modifications. Remove the custom ad blocker rule(s) and the page will load as expected.